What is ConnectedSolutions for Battery Energy Storage With Solar?
Solar Lesson #24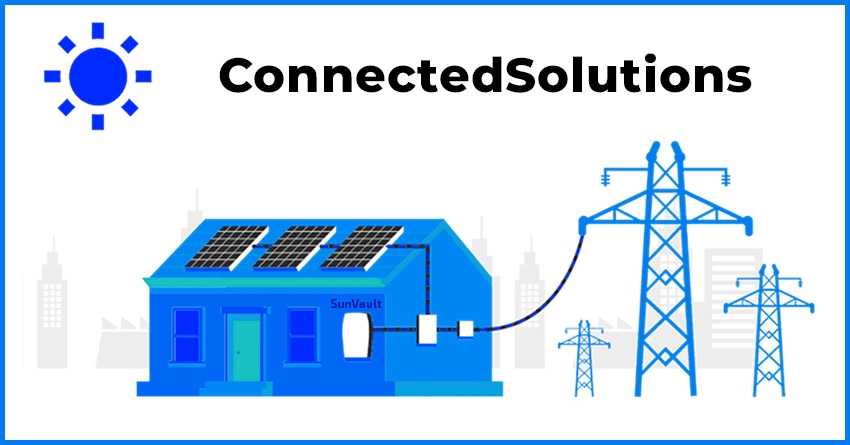 What is ConnectedSolutions for Battery Energy Storage With Solar?

---

What is ConnectedSolutions?

The ConnectedSolutions Battery Program in Massachusetts is a program that provides financial incentives for the installation of energy storage systems for residential and commercial customers in the state. The program is administered by the Massachusetts Department of Energy Resources (DOER) and is designed to support the state's goal of reducing greenhouse gas emissions and increasing the use of renewable energy. The program provides incentives for both behind-the-meter and front-of-meter energy storage systems, and the incentives are based on the size of the system and its impact on the electric grid. The program is open to residential and commercial customers of Eversource and National Grid, the two primary utilities here in Massachusetts.

Why Does ConnectedSolutions Exist?

Renewable energy sources are always growing in the US, which is fantastic news for our environment. When the sun is shining and the wind is blowing, we have plenty of clean energy to meet the people's demand from the grid. But what happens when the sun sets, the wind calms down, and our energy demand outweighs the available energy production?

Normally, utilities need to fire up something called a "peaker plant". These dirty power plants are designed to deliver energy when an extra boost is required to prevent a blackout. Peaker plants use inefficient gas instead of coal, requiring a wasteful "ramp-up" period just to get started. Not only is this very expensive for the utility companies, but it also emits an enormous amount of greenhouse gases into the atmosphere.

So how do batteries save the day? In Massachusetts, Rhode Island, Connecticut, and New Hampshire, the ConnectedSolutions program is designed to prevent the need to fire up those dirty peaker plants. When a time of peak demand arises, a ConnectedSolutions "event" is called. During an event, everyone's battery will discharge its clean green energy back to the grid, all at once, offsetting the surge in energy demand and preventing the need to fire up peaker plants! This reduces carbon emissions, and the good news is the utility will actually PAY YOU for this service.

When you have a battery in your home, you own a portion of a "Virtual Power Plant" – a grid asset that, when combined with the power from all the other SunPower batteries in your community, amounts to a utility-scale renewable energy source.

What is Battery Storage?

A home battery storage system operates like a rechargeable AA or AAA battery, but at a much larger scale. Home battery systems can be discharged when needed, e.g. when the power goes out (if the system configuration supports this) or when there is a ConnectedSolutions event.

How Does ConnectedSolutions Work?

By enrolling your home or small business battery system in ConnectedSolutions you'll earn incentives for allowing us to draw energy stored in your battery during times of peak electricity demand to help balance out the electric grid and avoid the use of energy from "peaker plants".

Earning incentives is easy. Your Utility will automatically send a signal to the inverter that controls your battery when energy is needed. Most battery owners will never even notice an event.

Your Utility will call upon your battery no more than 60 times per summer with each event lasting a maximum of 3 hours. Summer events will occur on non-holidays between June 1 and September 30, between the hours of 2:00 p.m. and 7:00 p.m.

Will The Utility Use My Battery During a Power Outage?

Many customers install energy storage systems to be prepared for power outages. Viridis Energy wants to ensure that customers with batteries remain prepared if the lights go out.

In New England, most power outages occur during the winter, whereas most events called in the ConnectedSolutions program will be in the summer. Additionally, if the weather forecast calls for an extreme weather event, the utility WILL NOT call a winter event, allowing ConnectedSolutions participants to keep charged batteries in preparation for a possible outage event.

What are the Battery Storage Incentives In Massachusetts?

If you pay your electricity bill to National Grid or Eversource in Massachusetts, there are incentives for you. National Grid and Eversource partnered with the Massachusetts Clean Energy Center (MassCEC) to sponsor a solar battery storage incentive program called ConnectedSolutions for residential and commercial customers. The goal of this incentive is to reward customers that reduce their grid-provided energy usage during peak demand times as a way to reduce the overall stress on the electricity grid.

It's based on a five-year timeline from when you sign the incentive contract with your utility and pays out twice a year with homeowners receiving up to $1,500 each year. These payouts are based on the summer and winter seasons, and compensation rates will be based on the season and your system's performance such as size and configuration.

How Much Are The ConnectedSolutions Incentives Worth?

The incentive rate is locked in place for the first 5 summers the customer is enrolled in ConnectedSolutions for all new systems.

Incentives are performance-based. Your battery system performance will vary based on size, configuration, internet connectivity, and other factors.

Compensation rates for homeowners are $225 per kWh in the summer when demand is higher and $50 per kWh in the winter. The maximum payout is $1,500 per year, meaning under the 5 year contract you could receive up to $7,500.

With all these savings over the next five years, you can greatly reduce the payback period of your solar + battery storage system.

SunPower Solar + SunVault Battery Storage

Combining a SunPower Equinox Solar System with SunPower SunVault Storage can power your home with cleaner energy, lower your electric bills and keep the lights on when grid power goes out. Our integrated SunPower Equinox System with SunVault Storage solution works hard to maximize your solar use, collecting excess energy in the daytime and distributing it as needed to power essential devices during an outage, reduce your reliance on grid electricity and reduce peak-time charges.

As your SunPower Equinox system produces energy, it sends the electricity you're not using to SunVault Storage and/or sells it back to the grid for a credit on future electric bills. In the evening, when your solar isn't producing electricity, SunVault Storage can help decrease the amount of electricity you draw from the grid.

Intelligent software monitors your solar, home energy use and utility rates to determine which power source to use—maximizing use of solar and reducing peak-time charges.

Enjoy Peace of Mind—When the power goes out, SunVault Storage can provide seamless backup to power your essential appliances and electronics, such as keeping the lights on, charging your phone or running your refrigerator.

Adding SunVault Storage to your SunPower Equinox solar system is the perfect way to make the most of the solar energy you produce.

And if your energy needs ever change—such as buying an electric vehicle or adding a pool — Viridis Energy can help you find the right solution.

Never Be Left In The Dark Again

Batteries paired with a solar system are essential for energy independence! Protect your home from the next power outage and keep your lights on, phones charged, and your fridge cool. You can rest assured that even when your neighbors lose power, your home will still be humming!

And even better is that by enrolling in ConnectedSolutions you are having the battery storage system paid for by your very own Utility provider!

Reach out to Viridis Energy to set up your no cost analysis with a professional solar consultant today.

Get started by calculating your savings. Fill out the form below to start saving today!
SEE HOW MUCH YOU CAN SAVE BY GOING SOLAR
CALCULATE YOUR SAVINGS